advanced course
Celtra ceram advanced
Dental technicians with basic skills who want to go deeper in the esthetics of frontal teeth.
Course objective
What we need to know about structure of the color of the natural teeth Something about reaching the right shape Symmetry or harmony? Properties of the Celtra ceram materials How to express yourself by brush, in upcoming digital workflows .
Teaching materials
Prepared printed working models
Framework made by Celtra press & Cercon XTML
Individual charts for each participant
Program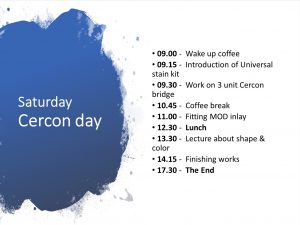 True information makes a difference, use it!